Online Travel Agents (OTAs) are websites that allow travelers to book various travel services directly online. An example of some top OTAs online are Booking.com, Expedia and Agoda. It is important for your hotel to be populated on as many OTAs and as prominently as possible.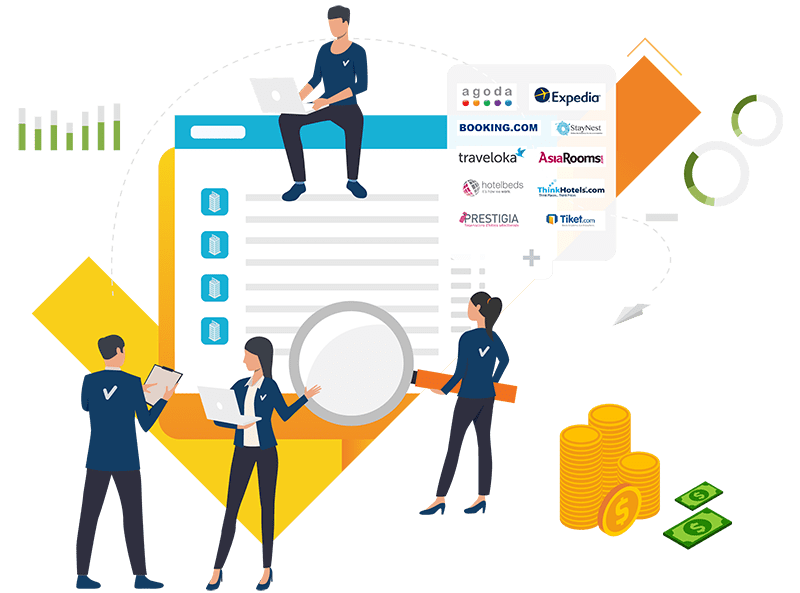 How OTAs will help you increase bookings
The OTA provides a secure booking platform and is the traveler's main point of contact for booking amendments and cancellations. OTAs also provide a variety of tools at no cost.
Insights and Analytics
Free access to market data, competitive insights, traveler preferences, tools and techniques.
Showcase Rooms
Another way to provide your hotel's amenity descriptions, photos, nearby attractions and more.
Potential Guests
Access to consumers in locations and at volumes that would be difficult to manage internally.
Nationwide Exposure
OTAs pay for nationwide different types of marketing while your hotel is populated on their site.
Why Is OTA Management So Important Today?
Booking travel online has become the new norm. In fact, current statistics show that over 90% of consumers researched their travel online, and 82% ended up booking online as well.
The advantage of online booking engines, instant payment and booking confirmation is key for any successful hotel. 
An online travel agency (OTA) is a web-based marketplace which allows customers to research and book hotels, flights, cars, tours, cruises, activities and more.
OTAs are very popular now-a-days. It showcases your hotel nationwide and internationally. So, you have a greater exposure with OTA.